Major Projects:
Reviews:
I have wanted to create a map with balanced play for quite some time. Being in a well-known clan while mapping, I learned a lot about what league players wanted as far as map balance and game play. For the most part, they don't want any thing too funky, such as added interactivity, dynamic spawn times, etc. I also had been wanting to create a Pearl Harbor based map for a while, since it was a theme that hadn't been touched on in RtCW. For more originality, the objective is suicidal in nature. Once the documents have been captured, the Axis player must throw himself into a giant incinerator.

I learned much from working on this map, as I always do. I created many of my own decals and shaders, fixed shader bugs that are common to RtCW, and exported lightmaps for editing in Photoshop. I conducted quite a bit of research for this map, including digging through many architecture books, spending hours pouring through Time and Life magazines from the World War II era in library archives, and checking out books about Pearl Harbor. The hospital and fire stations are based on actual buildings in Hawaii, and many buildings are based on American industrial and public buildings from the World War II era. I also found http://memory.loc.gov/ to contain a wealth of historical information and media.
In the final stages of design, engaging environmental effects were added. Custom shaders were used to give some buildings a charred look. Other buildings and brushwork was redone to give the level a more realisic feel. Sounds were added in along with interactive scripting which were the final touches that made this level complete.
As a special note, this map was deemed worthy of competitive play, and added to the Team Warfare League customs ladder.
Reviews:
Screens: Trains | Engine | Coal Car | Secret Weapon | Secret Weapon 2 | Dining Car | Tanker | Oil Spill | Cargo | Caboose | Caboose 2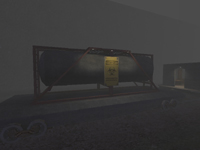 Originally, I was commissioned by the Team Warfare League (TWL) to create a map for their one life to live (OLTL) RtCW ladder. Unfortunately, the clan that was to test this map fell apart, and the project fell through the cracks. However, I already had most of the map finished. I decided to complete the project anyway. The concept was too have two moving trains, side by side. The Allies are attempting to stop the Axis train, so they must find a way to the other train and pull a series of brake levers. In order to get to the Axis train, the Allies must use dynamite to blow the roof off one train car, or blow up a stack of lumber, both of which create bridges between the trains. For the moving train effect, I used custom shaders on the ground and canyon walls that scroll at the same speed. I used script movers to carry players away from the train if they fall or are blown off the train. The environment was tweaked to give the level a foggy night feel to enhance gameplay. Realistic lighting was added, and sounds were made by hand.
With the founding of a new custom map league, the Team Warfare League asked if I would update "Kung Fu Grip" for competetive play. Most notably, the lighting had to be dimmed and revamped and the music taken out to allow for voice communications during play. Other gameplay changes were made, such allowing of airstrikes in any part of the level, a new route, and the relocation of a few interactive pieces. While casual gamers won't be keen on the updates, competitive players will welcome them with open arms.
As a special note, this map was deemed worthy of competitive play, and added to the Team Warfare League customs ladder.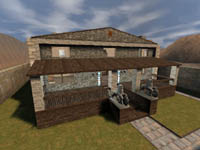 "Assassination" was my first RtCW map. Along with my former roommate, we learned the basics of Quake 3 engine mapping. We wanted to do a map where the objective was not to simply use dynamite, or make a document run. Rather, our concept was to assassinate Adolf Hitler. Besides taking on a major portion of the brush editing, I edited the existing MD3 game models using Milkshape 3-D and MD3Compile. I also changed the model texture in Photoshop to create the Hitler skin. In addition, the bunker is based on the floor plan of a real life bunker used by Hitler. For compiling I learned the importance of "caulk-hulling" to speed up compile times. I learned how to create ROQ files and created the load screens and objective snap shots for each objective. Also, I created the terrain for the map using GenSurf and EasyGen. Another innovation in "Assassination" was that this was the first RtCW to use a mirror shader. Finally, I wrote an online reflection of the mapping process, which was published at Gamehelper.com.

Minor Projects:
Dance Studio (2003)
Download
Screens: Stair Case | Furniture | Lobby | Kiosk | Barcelona Chair & Ottoman | Le Corbusier Grand Comfort
The dance studio map was created for an interior design student's senior thesis. For her project, she renovated a historic building. She was advised to find a 3-D designer to help model her project. She asked if I would make her space using GTKRadiant. Within a few hours, I created this dance studio to scale, where 64 units equaled three feet. I used photos of Le Corbusier and Barcelona style furniture to create the furniture in the space. Screenshots were taken and presented at her final review. The professional architects and designers were impressed with the realistic quality of the renderings from the computer model.