Sunday, March 9, 2008
Thought I'd put one final bullet in this one. Cleaned up the comments and about to shut 'er down. Thanks to everyone who helped one this project. It was fun while it lasted.
Until next time...
Posted by Hummer @ 05:37 AM PST [Link]
Wednesday, February 25, 2004
Well, I released the final about a month ago, and I'm just now getting to talking about it here.
I realize the release could have had more fan fare, but I released the map the day before I moved to LA, where I now work for Graymatter as a level designer! I've been here about a month, and have finally settled in enough to get my bearings and tie up loose ends.
In any event, you can grab the final version at RTCWfiles until I go and find other places that hosted the map.
Thanks to everyone that helped produce this level... all the great custom models, textures, the help with the design and testing, it wouldn't have been possible without the help and feedback from all of you.
This will be my last post for a bit, however, I plan on releasing the map source and model sources as soon as I get some more free time. Then people can customize the map however they want... I know some people would rather have the sub pen as a seperate level for instance.
Posted by Hummer @ 12:52 AM PST [Link]
Monday, December 29, 2003
Finally, the public beta has arrived.
You can pick it up here for now.
Fileplanet: Here
Also, you can grab it here if you're in Europe:.
After all is said and done, the .pk3 is shy of 18 megs. Why is it so big? We used many custom models, textures, and sounds. Also, the map is large in space, although after gameplay testing, we found the map suits games of 4v4 and up quite comfortably.
Keep in mind, com_hunkmegs needs to be set to 72 or greater. Just pull down the console (the ~ key) and type /com_hunkmegs 72. Only have to do this once, and you should be set. Otherwise, the map will crash out.
Have fun, and I hope to hear from people. Email me at hummer@hummerdesign.com with bugs, or reach me on IRC at #hummerdesign on gamesnet.
Have fun!
Posted by Hummer @ 05:18 PM PST [Link]
Sunday, November 16, 2003
An Alpha version is out to limited testers at the moment. This is the first closed testing of the map.
Also, the pk3 file is about 15 megs... the BSP is 22 megs. People have had problems loading it due to the size of the BSP. So, once the map is released, be sure to set com_hunkmegs to like, 128. I set it to 70 and it worked as well, but better safe than sorry.
Anyway, here are some screens of work Shield, Endureth and I have done on the sub pen: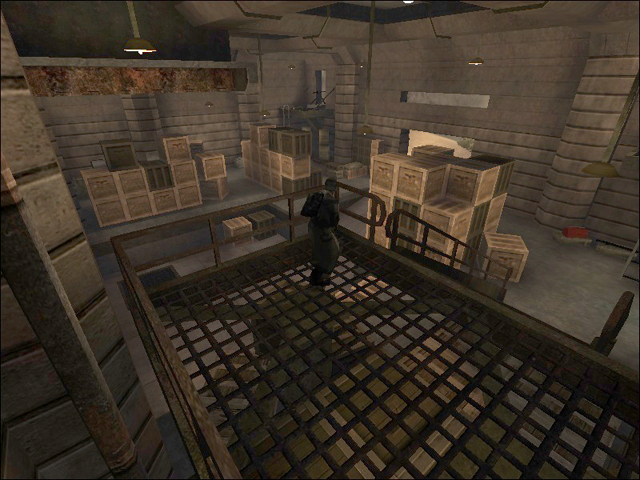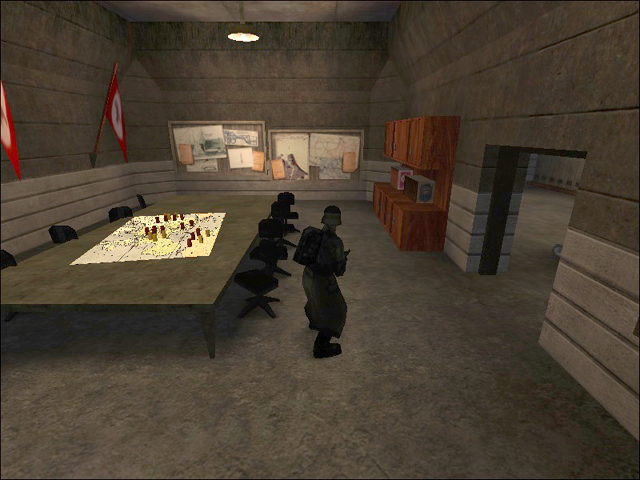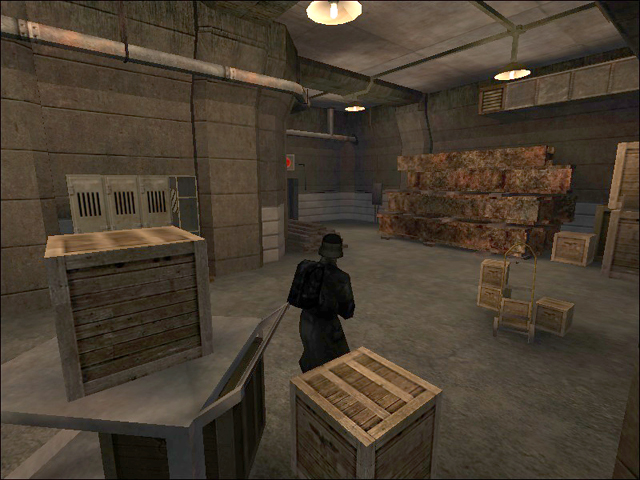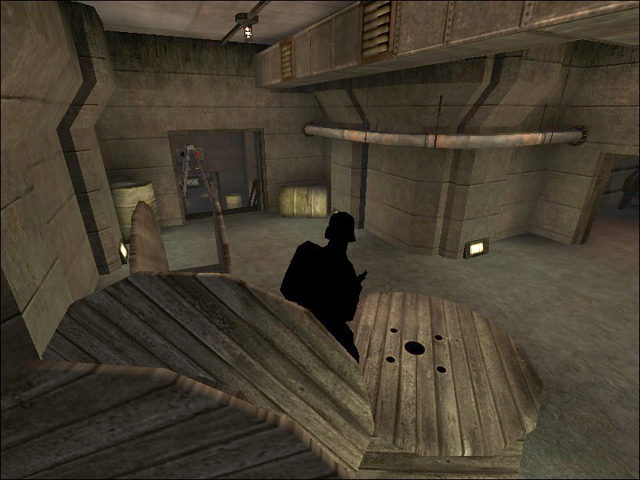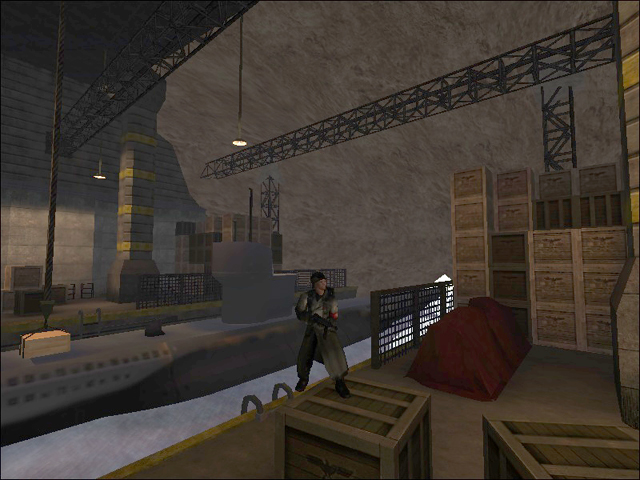 More 1 | More 2 | More 3 | More 4 | More 5 | More 6 | More 7 | More 8 | More 9 | More 10 | More 11 | More 12 | More 13 | More 14 | More 15 | More 16 | More 17 | More 18 | More 19 | More 20 | More 21 | More 22
Blah. Need a mapping break, as I've been going into overdrive the past few weeks (8+ hours on weekends, 4+ on weekdays) adding detail everywhere. Looking forward to feedback on testing. There's still some unfinished and empty rooms, halls, etc.
Posted by Hummer @ 09:53 PM PST [Link]
Saturday, November 1, 2003
Well, work, moving, and getting married has proven to be very time consuming. So much so, that I've more or less disappeared of the face of the Internet for some time. Fear not, because I have been working on the Indy project.
In fact, lots of stuff is done, and it's I could release an alpha now, but there's some stuff I want to add first. Mainly, detail in certain rooms. For example, crates and machinery in the axis base.
However, all of the scripting is done, the layout and main architecture brush work is done, all the objectives work, cameras work, info text is done, map is vising nice (good frame rates BTW), the sub model is in place and clipped, lighting is pretty much done, and on and on.
So, at this point, I'm adding some details, trying to finish this up for some play testing. Hopefully, when I get to the beta stage, I'll post some more screen shots. As it is, I'd like to focus soley on mapping :)
Posted by Hummer @ 03:49 PM PST [Link]
Tuesday, August 26, 2003
So, I got a job, teaching technology to high schoolers.
I got hired Friday, and started Monday. Two seperate labs, one a modular tech lab, another lab for building PCs. Did I mention the guy left little to no documentation on the labs, or any passwords? Yeah, nice to get paid finally, sucks to have to go through all this though.
So, I have to spend more time at work, which means less time mapping. I was thinking about making one of the modules a "mapping module" though :)
Anyway, I'll be mapping still, no doubt, but the first few weeks of school will be rocky, so I won't be doing a whole lot. From what Shield is doing though, this project is looking better everyday... I'd say brushwork is like, 85% done now, scripting more like 70%. Detail needs to be added in various places yet. Plus, all the final touches like the command map, and so on. Oh, and sound.
More updates to come... as usual :)
Posted by Hummer @ 08:40 PM PST [Link]
Friday, August 22, 2003
I've been doing a lot of work in and around the idol room. The caves were just bland, and I needed to spice them up... here's a few things I did.
1. Made the torch models ASEs, then rotated them at various angles.
2. Lightmapped the cave model (looks a lot better).
3. Added architecture to the idol room to make it more interesting.
4. Added torches and lights to the caves around the idol room.
5. Skeleton models and artifacts spread along the floor of the caves.
6. Ladders added in the necessary places to get up to the idol room.
7. Fixed the boulder scripting finally, so it doesnt "bounce" off dead bodies.
8. Finished most of the tomb, texturing and architecture. Still more detail to be added here.
9. Added a constructible "boulder wall" defense the axis can build to seal off a path.
Anyway, here are some screens... I took a ton this time, since a lot of work has been completed latley :)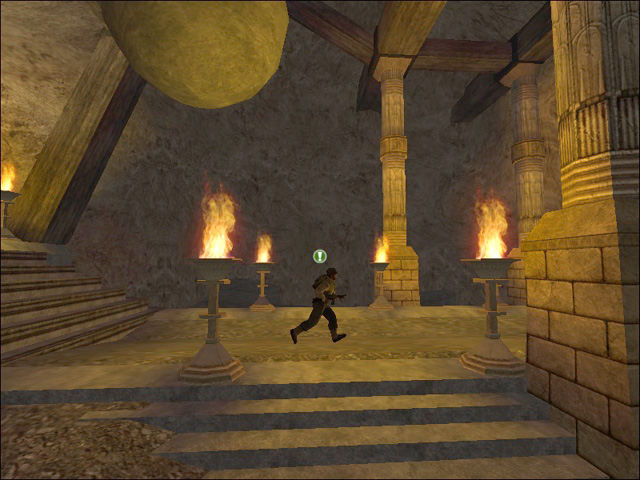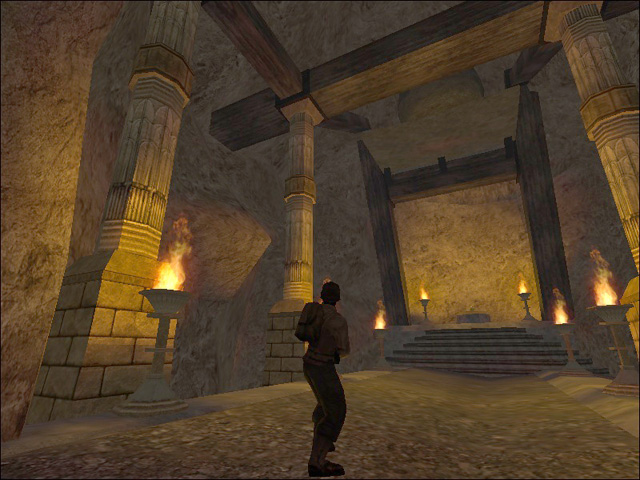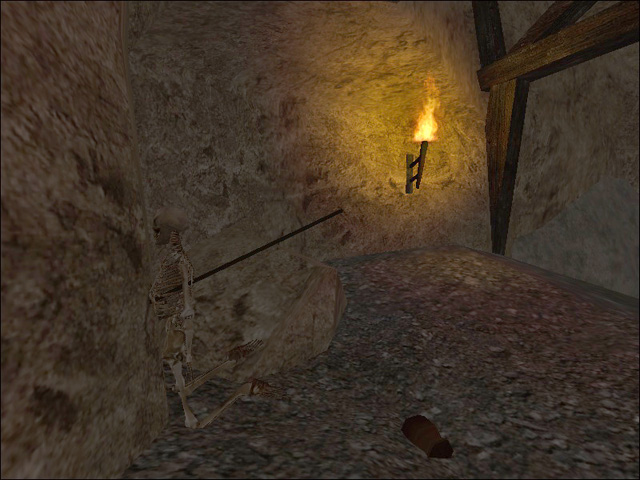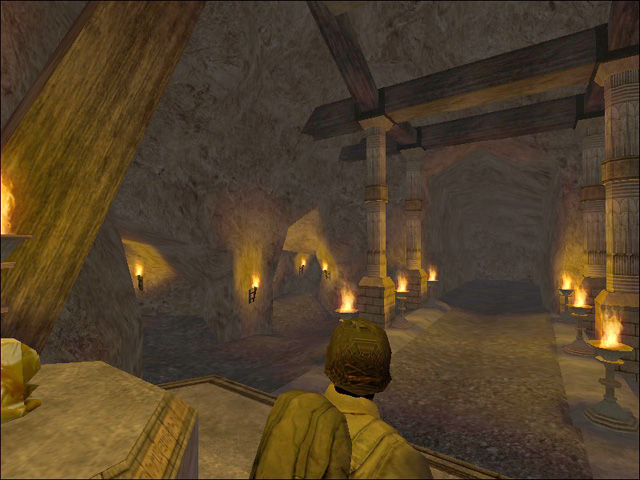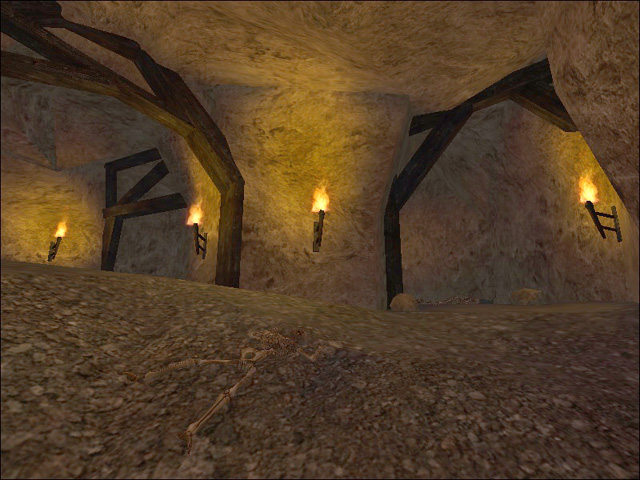 More 1 | More 2 | More 3 | More 4 | More 5 | More 6 | More 7 | More 8
Posted by Hummer @ 12:43 AM PST [Link]
[Archives]
Search entries: